Hundreds still to face courts in London over riots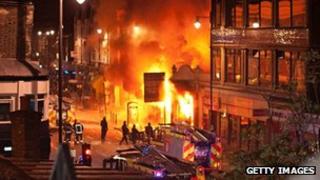 Hundreds of cases of people accused of being involved in last summer's London riots are still being prepared for trial, the BBC has learned.
Figures from the Crown Prosecution Service (CPS) show that it has 450 cases still to deal with and that 200 are at trial stage.
Every week 12 more cases are added to the CPS's list.
Alison Saunders, of London CPS, said it had prosecuted more than 2,000 people, with an 83% conviction rate.
She said a unit was set up in August to deal with riot-related prosecutions.
"That unit is still going strong and is incredibly busy," she said.
In England, latest official figures from the Ministry of Justice, which were released in February, show 2,710 people have been before courts, of which 1,483 people were found guilty.
The average sentence was just over 14 months, however, those convicted for similar offences the previous year were sentenced to nearly four months on average.
Justice Minister Crispin Blunt has said the "swift and firm" justice handed down by the legal system helped stop the riots.
And, the Court of Appeal has said those who were part of the disorder deserve tough sentences.
However, MPs, legal figures and justice campaigners have argued that disproportionate sentences have been handed down for riot-related offences.