Police Commander Ali Dizaei loses bid to pause hearing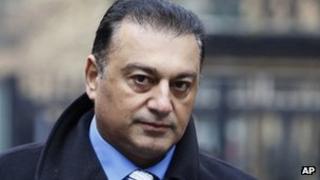 Former Metropolitan Police Commander Ali Dizaei has lost a High Court bid to have a misconduct hearing postponed.
Dizaei, 49, was jailed in February for three years over an attack on a web designer in 2008 after his first conviction in 2010 was quashed.
Before the retrial, he gained his job back but has since been suspended on full salary pending Thursday's disciplinary tribunal.
Dizaei had told the court he did not have enough time to prepare.
He was ordered to pay police costs of £4,330 of contesting the application.
In February 2010 Dizaei was jailed for four years but the conviction was quashed a year later by the Court of Appeal.
At the retrial in February he received a three-year prison sentence which was reduced by the time he has already spent behind bars.
He has since been released with an electronic tag and is pursuing a further appeal against conviction for misconduct in a public office and perverting the course of justice.