Drug use among children as young 14 attending club event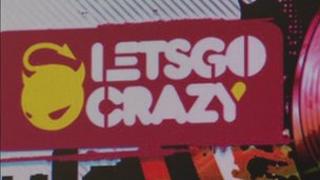 Evidence of illegal drugs being used by children as young as 14 attending supposedly "safe" all-night raves has been uncovered by a BBC London investigation.
Let's Go Crazy (LGC) is a popular clubbing event which markets itself as a safe night out for over 16s where drugs will not be tolerated.
It hires out venues across London for its all-night events.
On its website Lets Go Crazy promises "unforgettable nights out for young people" and claims the "safety of our guests is our most important priority".
It adds: "Under no circumstances will the possession or consumption of drugs be tolerated."
Tighter security
The last LGC event was in April at The Coronet in Elephant and Castle, which finished at 05:30 BST. It was a sell out with about 2,400 teenagers attending.
But secret filming by BBC London journalists who attended the night reveals apparent drug use among clubbers, many younger than 16, and evidence of teenagers offering to supply drugs.
Two days before the event was due to take place, LGC announced there would be tighter security than at previous LGC events there.
One of the BBC journalists texted an LGC promoter asking why security was so strict.
The promoter replied saying: "Can you imagine how many people will be on drugs! Also if you need any you can get inside, because inside there will be a lot of ppl with drugs haha."
While queuing outside the event, the journalists filmed two stewards with LGC identification cards advising a group of boys who admitted having MDMA, a form of ecstasy, and were worried about getting caught by the police to "get rid of it".
'Insufficient and inadequate'
According to Home Office guidelines, if someone is searched and drugs found, the drugs should be confiscated and the person either refused entry to the club, or the police called.
But Coronet staff - who are responsible for security searches - do not appear to have been alerted by the stewards.
When we told The Coronet what we had seen, it criticised the actions as "insufficient and inadequate".
LGC said its staff were not legally entitled to search anyone.
Once inside the venue, journalists found someone offering to supply MDMA.
The journalists were also told on three separate occasions by different teenagers about a particular clubber selling MDMA inside the venue.
When one of our journalists later approached the clubber he offered to supply them some drugs.
The journalists also spoke to another girl who said she was 15 and had taken MDMA.
When asked if her parents knew where she was, she replied: "My dad, he thinks I'm at a party. He thinks it's for charity so I said I need extra money, so technically he just bought me MD."
While at the event, the undercover journalists filmed 21 clubbers talking about illegal drug use.
Of them, 16 admitted taking drugs. They also spoke to seven clubbers about their age and four admitted to being aged 14 to 15.
James Beaumont, from LGC, said: "We treat all allegations of substance abuse seriously and we will investigate fully what occurred to ensure any issues are resolved before another event takes place."
A spokesman for The Coronet said: "We have a zero tolerance towards drugs and have a 'no search no entry' policy."
'Additional checks'
Southwark Council is responsible for licensing The Coronet. It said it would now be contacting other venues in the borough to stop under 16s attending similar all-night events.
The council is also looking at a decision by The Coronet and LGC to have an area where over 18s could drink alcohol despite under 16s attending. This happened at an event that was held in February.
Both LGC and The Coronet insist they have not broken the law.
In a statement, The Coronet, said: "The only part of the premises that was being used for the supply of alcohol was a relatively small area on the first floor.
"Access to this area was restricted to over 18s and all guests entering this area were subject to an additional ID check in relation to their age."
But Philip Kolvin QC, a leading licensing barrister, said in his view the law was clear that unaccompanied children under 16 are not allowed on premises after midnight if alcohol is being served.
"That is a very serious matter of concern, because what one would be doing is mingling adults who are drinking with children."
Until recently, the LGC website said its events were mainly for 16 to 19 year olds, with no under 15s allowed.
But after BBC London contacted LGC, the website was changed to include 14-year-olds as well.
LGC insists that despite marketing the event as 16+ this is "a branding choice and not a legal requirement".
The Coronet, which has hosted four LGC events in the past year, has said it has now decided not to hold any more.
"What had started as a fun night for children was becoming too difficult," said The Coronet's general manager Simon Lillie.
"We could not control what kids were doing before they got inside the venue."