Teenage rapists sentenced for attacking girl, 11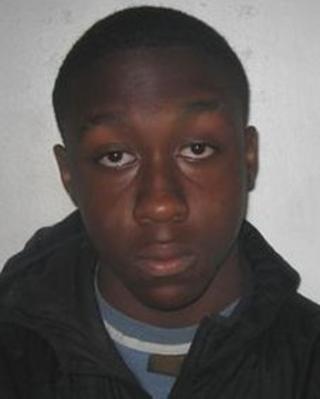 Two teenage boys who subjected an 11-year-old girl to a "campaign of sexual assaults" have been ordered to be detained.
Ibraheem Giwa, 15, of Wolsey Avenue, Upton Park, was given five years and his friend, a 16 year-old from the Newham area, was given 12 months.
The offences took place between September 2009 and March 2010.
At Inner London Crown Court Judge Patricia Lees lifted media restrictions on naming Giwa.
'Truly shocking'
Scotland Yard said the victim was forced to endure a series of assaults by a gang operating in the Newham area.
Giwa was found guilty on 29 February of two counts of rape against a child under the age of 13, the Crown Prosecution Service confirmed.
His 16-year-old friend had previously pleaded guilty to one count of rape against the same girl.
Two other boys, a 16-year-old and a 15-year-old, both from East Ham, were found not guilty of rape on 29 February.
The police said that after the attacks the boys would punch the victim to threaten her and ensure she did not tell her family or friends.
She also experienced bullying on the internet with messages about the rape allegations being placed on her Facebook page, said police.
Det Sgt Kam Sodhi, based at Stratford, said it had been a "truly shocking case" with a young child subjected to "the most appalling sexual abuse".
He added: "The victim has shown immense courage throughout her ordeal, the investigation and the subsequent court case.
"At the time of the offences she was just 11 years old. She stood in a court in front of her attackers at the age of 13 years."
Police believe another five boys were involved in sexually assaulting the victim or watching while the attacks were carried out, and are appealing for information.