London 2012: Courtrooms to close amid travel concerns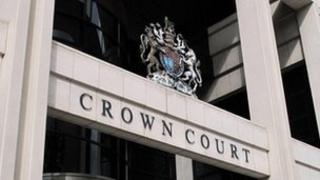 Almost half of the courtrooms handling the most serious criminal cases in the capital will be closed down by the Olympics, according to official plans.
Crown courts near travel hotspots and key venues will stop sitting or offer a reduced service during the Games.
Only up to 75 of the capital's 138 courtrooms will be sitting during the 17 days of the Games, according to plans seen by the news agency PA.
London's 11 crown courts will begin to reduce operation levels from 23 July.
The closures will be put in place because of concerns about travel problems for witnesses and jurors getting to and from the courts.
A spokesman for Her Majesty's Courts and Tribunal Service said: "We have only reduced court and tribunal sittings at those buildings close to Olympic venues and known travel hotspots.
Impact 'minimised'
"We are in the process of rescheduling listings to ensure that any displaced work is dealt with either before or in the weeks immediately after the Games.
"Most of the courts and tribunals in London will be operating normally during the Olympics, and will deal with all urgent applications and cases."
Most criminal courts will aim to reduce operating levels as they try to complete any trials before the opening ceremony on 27 July.
In central London, the Old Bailey will use just nine of its 18 courtrooms while Woolwich, in south-east London, around nine miles from the Olympic Park, will use six of its 12 courts.
At the Royal Courts of Justice, "jurisdictions will aim to complete trials during the week July 23-27" and the normal summer recess from 1 August "will reduce hearings to a sustainable level".
Kingston Crown Court, in south-west London, will not sit at all when the cycling time trial passes nearby on 1 August, and the Royal Courts of Justice will hear only emergency applications on 30 and 31 July.
Southwark, near the busy London Bridge Tube station, which has been deemed a travel hotspot, will use five of its 14 courts.
Snaresbrook, three miles from the Olympic Park in east London, will use five or six of its 21 courts.
Magistrates' courts, family courts and county courts across London will also see significant changes while most tribunals will offer "close to normal summer listing levels".
According to the plans, any sitting days not used during the Olympics "will be utilised before and after the Games to minimise the impact on court delays".