Facebook riots page man Terry Balson detained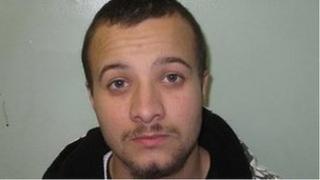 A man who set up a Facebook page during the London riots to encourage others to join the disorder has been detained.
Terry Balson, 20, was detained for two years after pleading guilty to "encouraging or assisting offences believing one or more will be committed contrary to section 46 of the Serious Crime Act".
Balson, of Halton Road, Islington, was detained at Wood Green Crown Court.
Police said he had encouraged others to attend Barnet High Road and riot.
He also encouraged people to meet up in Wood Green on 9 August.
'Fear and panic'
Both of these areas in north London were subjected to attacks on that night, police said.
Metropolitan Police Det Con Chris Ladmore said: "Terry Balson actively encouraged and incited others to attend Barnet High Road and riot.
"In interview, Balson admitted the offence and stated that rioting was OK if it wasn't on your own doorstep.
"It was through his actions that he caused widespread fear and panic to the residents of Barnet whom had already witnessed the events in Tottenham.
"It was with the assistance of these concerned residents and the social network community that Terry Balson was not only named, but arrested, charged and convicted."