Met race claim victims 'made to suffer', says retiring officer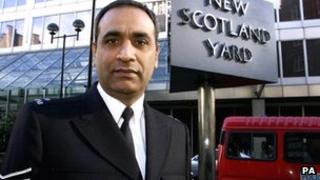 One of the first officers to win a discrimination case against the Metropolitan Police has said that racism continues to be a major problem within the force.
Det Sgt Gurpal Virdi, 53, who is retiring after 30 years, said not enough was being done to stamp it out and called for police chiefs to offer more support to victims.
Black and Asian staff who complain of harassment often find themselves treated as the perpetrators or viewed as troublemakers, he claimed.
A statement from the Met said: "The Commissioner [Bernard Hogan-Howe] has made it very clear there is no place for racism in the Metropolitan Police Service.
"The MPS has taken immediate action when race related complaints and internal conduct matters have been raised, including referring cases to the IPCC who have announced a review of race cases.
"In a number of these cases it was officers, from both white and black and minority ethnic backgrounds, who stood up and raised their concerns which we took extremely seriously."
The Independent Police Complaints Commission (IPCC) is currently investigating 11 cases of alleged racism involving 19 officers and one member of staff.
Mr Virdi was sacked in 2000 after being wrongly accused of sending racist hate mail to black and Asian colleagues.
But he was reinstated after winning a case against the Met later that year.
It was seen as a landmark case which exposed for the first time the problems faced by ethnic minority officers.
But Mr Virdi said the lessons had still not been learnt.
"Instead of making the victim suffer, the suspect needs to be suspended," he said.
"He needs to disciplined."
"The problem is that the Met surrounds the suspect and protects them with legal jargon or legal department, which is the wrong way of doing it," he added.
He said he was speaking out now because he cared about the police and the communities it served.
He said the biggest problem black and Asian staff faced was being overlooked for promotion, which had left many of them feeling demoralised.
They could come up against problems like "not being granted courses, not being promoted, not being [made] part of a team".
Mr Virdi, who does support and advisory work on race issues with various staff associations, said the police could find it hard to hold on to ethnic minority staff until these problems were addressed.
He said: "We only have 9% of ethnic minority officers, yet the population of London is 40% ethnic.
"That's a drastic difference," he said.
Mr Virdi believes the current commissioner genuinely wants to improve things.
But he added that someone needed to "get a grip" on the situation, where "past commissioners have failed".
The Met has not responded to requests for a comment.