Queen's Park parish referendum voting begins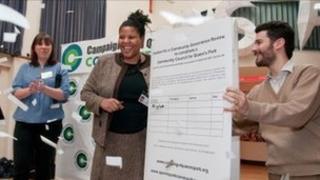 Residents in Queen's Park have begun voting on whether they want to set up the first parish council in London for more than 50 years.
Voting packs have been sent to about 8,000 residents with the result expected on 28 May.
The law allowing boroughs to create parish councils was abolished in 1963 after the formation of the Greater London Council.
A final decision will be taken by Westminster City Council on 25 June.
The last parish council in London was thought to have abolished in 1936.
But a 2007 law restored the power for London boroughs to establish parish councils.
'Make a difference'
Fabian Sharp, of the Queen's Park Forum, which has campaigned to have a parish council, said: "This referendum will get the message out to Londoners that ordinary people can make a difference where they live.
"In contrast to the mayoral elections, and even the decisions taken in distant city halls, the community council aims to put local people in control of real local issues."
Queen's Park Forum wants residents to pay £45 per year to fund community activities which the group fears Westminster City Council will no longer be able to afford.
The money would pay for an office and two members of staff to co-ordinate and support residents.
Westminster City Council Deputy Leader Cllr Robert Davis said: "Holding a referendum will enable all residents to have their say."
At present there is not an organised 'no' campaign.
People can also vote by post, telephone, text and email. Votes must be returned by 17:00 BST on 25 May.