Woman's struggle for police to apologise for 'assault'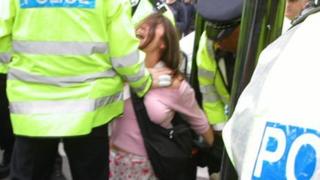 The Metropolitan Police has come under criticism after figures obtained by the BBC show that it paid out nearly £9m in compensation over six years to settle complaints over police actions.
Shamik Dutta, lawyer who has represented individuals in claims against the police, said the police complaints system did not work.
One person who struggled for six years to receive an apology from the force is Lorraine, 30 from London, who was wrongfully prosecuted following a May Day demonstration in London in 2003.
Lorraine said when the protest started to get "quite rough", she decided that she did not want to take part any more, so she moved away from the protest - however the police told her she was not allowed to leave.
"I trusted the police and thought they would have let me go," she said.
Dressed in a pink dress with flowers on and playing a drum as she was part of a samba band, Lorraine said she did not fit the profile of "an anarchist".
But officers pushed her to the ground, snatched her drum and possessions and pinched her neck before dragging her into a police van.
In the van, Lorraine said she was "crippled in pain" as a female officer had her in a wrist lock and the male officer stamped on her and did a Chinese burn.
"The female officer was shouting at me to sit on the bench but I was in so much pain that I could not move.
"It was really terrifying as I couldn't do what she asked me to do. I kept screaming, 'I can't, it hurts too much'."
Lorraine was initially told she was being arrested for refusing to leave the protest, however the male officer later said he heard her make racist comments and that she had tried to force her way through a police line using her drum as a battering ram.
'Lost all faith'
"They knew they were making it up; they knew I didn't attack them and they knew I was only standing there."
After the incident, Lorraine was left with pains in her wrist and shoulder and bruises all over her legs and neck.
"The main thing was the emotional damage. I lost all faith in the police," she said.
"I thought they were responsible people that I could trust if I had a problem but now I see them as bullies who enjoyed causing pain to a vulnerable young woman and would make up lies."
Lorraine was found not guilty of assaulting a police officer and threatening words and behaviour after four independent witnesses, including a legal observer and a photographer who was writing a book about protests, gave evidence in court as to her innocence.
"I felt I had no control over the situation," she said. "I thought 'it's not fair' as I hadn't done anything.
"If I had been found guilty and if there were no independent witnesses, then it would have impacted heavily on my career as I have since got a job working with vulnerable people."
It was only after she had been found not guilty in the courts that she was able to seek justice.
Her first complaint to the Met found that there was no case to answer, so she appealed to the Independent Police Complaints Commission (IPCC) in 2005 which said that the Met's investigation was inadequate.
The IPCC ordered a fresh police investigation after she threatened it with a judicial review, however the second Met investigation again concluded that there was no case to answer.
After a second appeal to the IPCC in March 2007, nothing happened until December 2008 when the police said the IPCC did not have the power to order it to revisit its second investigation. This was because it did not obtain a court order formally quashing the investigation's outcome.
Lorraine said this amounted to a "general refusal" by the Met for them to look at disciplining the officers involved.
After this she threatened, for a second time, a judicial review, however this had to be abandoned because she was no longer eligible for legal aid so she could then only pursue civil action.
'No willingness'
As a result of this action, the force paid her several thousand for false imprisonment, assault and malicious prosecution, together with a letter of apology, however it refused to admit liability.
In the apology, the force said: "I realise that you feel that you should never have been arrested, charged or prosecuted, and that you feel that the arresting officers' use of force on you amounted to an assault.
"I would like to apologise for these events on behalf of the Commissioner of Police of the Metropolis. It is a matter of regret to the force that matters unfolded as they did."
Looking back, Lorraine said: "I'm glad I pursued it as far as I could, but I felt disappointed that at every stage there was no willingness to recognise any police wrongdoing."
In a statement, the Met said it invested significant resources to "ensure the professional standards of our staff".
"It is important people have faith in our investigation process and we would encourage anyone who feels we have fallen below the standards expected of us to make a complaint which will be investigated," the statement added.