People's panel says St Helier A&E unit should close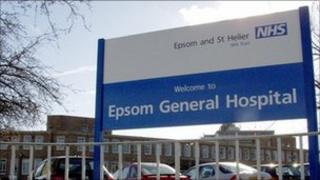 Accident and Emergency and maternity wards at a south London hospital should close, a panel of local people and medical staff has recommended.
The panel of 60 local people, managers and GPs decided that St Helier Hospital should lose the departments, but get a planned centre for elective surgery.
The group also considered whether to make cuts at Croydon, Kingston or St George's Hospitals.
St Helier's chief executive said he was "disappointed" by the recommendation.
The suggestions of the panel are not binding and any proposals would be subject to a 12-week public consultation, expected to start in the autumn.
Chief executive of St Helier Hospital Matthew Hopkins said: "Whilst we accept there is a case for changing the way NHS services are provided in south-west London, we are disappointed the scoring panel has made this recommendation.
"The key criteria we expected the panel to use in making its recommendation were clinical outcomes, safety and patient experience.
"We know we do well in these areas, especially when compared to our local hospitals, so it is regrettable the panel has come to this conclusion."
The panel allotted scores to various reform choices.
It gave 201 points - the highest score - to the option of St Helier Hospital hosting the planned surgery centre, whilst keeping A&E and maternity units at Croydon and Kingston Hospitals.
Dr Howard Freeman, joint medical director for South West London NHS Trust's Better Service Better Value panel, said the panel had looked at clinical evidence and various options for the past year.
He said: "Clinicians leading this programme are committed to four hospitals in south-west London but we know the services at all four of our local hospitals need to change."