London bus drivers to vote on 2012 Olympics strike action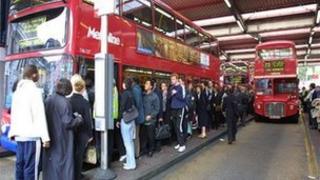 Thousands of bus drivers in London are to vote on whether to take strike action in a row over payments during the Olympic Games.
Unite said it had given 21 bus companies operating in London notice of its intention to ballot up to 21,000 of its members in the capital next week.
The union has asked for a £500 payment to recognise the "massive increase" in workload during the Games.
Transport for London has called for a resolution with minimal disruption.
The union said 800,000 extra passengers were expected to travel on buses during the Games.
It added that other transport workers, including those on London Underground, London Overground, Docklands Light Railways, Network Rail and Virgin, would receive hundreds of pounds in extra payments during the Olympics.
'Refused to talk'
Unite official Peter Kavanagh said bus workers would be going "above and beyond the call of duty" to make the Olympics a success, adding that newly re-elected London Mayor Boris Johnson should intervene in the dispute.
"Boris Johnson has sat on his hands for almost a year while the bus operators have refused to even talk to Unite about their workers' extra contribution to the Olympics," he said.
Unite's general secretary Len McCluskey told BBC Radio 5 live that workers "had a right to join in on additional revenue at a time of increased stress".
"What is wrong with the bus companies who are going to earn millions of pounds additional revenue, what's wrong with them saying 'we're going to give a little bit of that to our workers'?"
Leon Daniels, TfL's managing director of surface transport, said: "London bus drivers are employed by private bus companies and their pay and conditions are set by those companies.
"If bus drivers are required to work additional hours they are always paid overtime accordingly."