Thousands to Bollywood dance in Guinness record attempt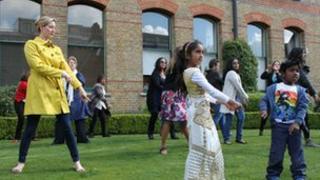 Thousands in London and across the world will dance to a Bollywood routine in an attempt to break a Guinness world record on Saturday.
Organisers expect at least 2,000 people to join the dance in Victoria Embankment Gardens, raising money for Macmillan Cancer Support.
People will be dancing at the same time in Dublin, Australia, and Malaysia.
The event is organised in memory of Sophie Parr from Somerset, who died from cancer at the age of 24.
Organiser Shamela Kylassum says she never imagined that thousands of people would want to get involved.
She said: "It just sort of snowballed. People started inviting everyone they knew, and it got bigger and bigger."
As news of the fundraiser went viral, choreographer Jay Kumar offered to design the dance routine and a sound team offered to provide free equipment.
Participants will be dancing to the Pussycat Dolls' version of Jai Ho.
'Celebrating life'
Ms Kylassum has also encouraged others to set up their own linked events, in the hope the event will reach more than 4,300 participants, breaking the current record.
Satellite events have been planned in places as diverse as Edinburgh prison, Adelaide in Australia, and Kuala Lumpur in Malaysia - where more than 1,000 people are expected to attend.
A flash mob event is also planned in Dublin.
Mili Pilatova, a YMCA gym instructor, is holding a satellite event in Bedford Square in London.
She was inspired after seeing the dance routine on YouTube.
Ms Pilatova said: "Not everyone can run a marathon. The classic excuse is 'I'm not fit enough', or 'I can't dance'. But I just showed [my class] a bit [of the routine], and they all said 'yeah, we can do that'."
Ms Parr died from cancer in 2009. After being diagnosed, she blogged about her experiences to raise money for charity.
Ms Kylassum said: "At her funeral, we talked about doing something in her memory, and we thought about Bollywood dancing as she loved Bollywood music and dancing.
"Now people are asking us to do this on an annual basis - we probably will.
"For me, this is not about being sad about someone dying of cancer. It's really all about celebrating life and living in the moment."