Children in Hackney wait longest for adoption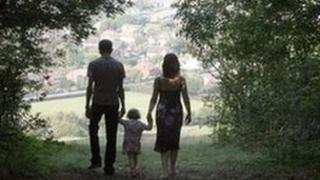 Children in care in Hackney have the longest wait in the country to move in with adoptive parents, it has emerged.
The national average is 21 months however in Hackney it takes 33 months.
The government said the first-ever local authority scorecards were a "trigger for urgent, detailed discussions" to speed up the process.
Hackney Council said it was "critically important" to get adoption right and children are placed in "loving" foster homes during the process.
The scorecards are part of the government's plans to reduce the length of the approval process for would-be adopters to six months.
They look at the average time it takes for a child to be moved in with an adoptive family; the proportion of children waiting longer than they should, including those still in care; and the average time it takes an authority to match a child with a family after a court has decided that adoption is the right course.
The scorecards also show that Merton, south London, has the second longest time at 32 months.
'Not credible'
On average, children wait 21 months to be adopted.
Children's Minister Tim Loughton said the scorecards were "not the be-all and end-all" however more areas needed to strike a better balance between quality placements and the risk of long-term damage to children by leaving them with uncertain futures.
Alan Wood, Hackney's director of children's services, said: "Getting children adopted within timelines is clearly a priority for all local authorities. It is however critically important to get the placement right, first time."
He added that as the children it places for adoption were those with complex social needs and disabilities or from abusive backgrounds, it took an extended amount of time to place them.
"We don't give up on finding permanent homes for them, and we acknowledge that has a negative effect on our figures.
"We ensure that while we find a good placement, our children are within stable, loving foster families rather than institutions or moved from place to place."