'Fake election leaflets' in Richmond probed by police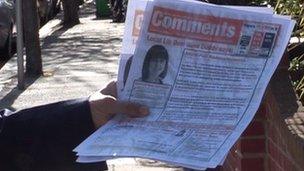 Claims of election fraud are being investigated by police after fake election leaflets were alleged to have been handed out in south-west London.
Leaflets purporting to be from Liberal Democrat candidate Jane Dodds appeared to pledge support for causes the party said it had never backed.
Ms Dodds lost the recent by-election to Tory Stephen Speak by 146 votes.
Mr Speak said he was "shocked and disappointed that something like this could happen".
The election leaflets, alleged to have been designed to look like official Liberal Democrat literature, were said to have been handed out in Richmond ahead of the election on 3 May.
They claim that Ms Dodds wanted to use a pub to house recovering drug addicts and she supported the construction of more than 500 flats above a supermarket.
Ms Dobbs said: "They were not completely outrageous that anybody who picked them up could have felt that they were a prank.
"That's why it is important that this is investigated properly and that it was seen as a process that was not fair to all of the electors in north Richmond."
No-one has been arrested in connection of the alleged fraud.
Related Internet Links
The BBC is not responsible for the content of external sites.