Bollywood dancing event raises thousands for charity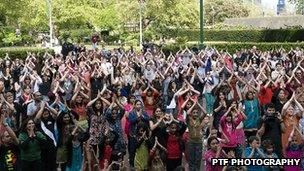 Bollywood dancers and music filled Victoria Embankment gardens in London on Saturday afternoon as people gathered in an attempt to break the Guinness World Record for the most people dancing a Bollywood routine.
Organisers said about 1,000 people danced to the Pussycat Dolls version of Jai Ho.
Another 11 satellite events took place at the same time, including three schools in the UK, Edinburgh prison and places in Australia and Malaysia.
The event, which was organised in memory of Sophie Parr from Somerset who died of cancer at the age of 24, raised £6,500 for Macmillan Cancer Support.
Ms Parr loved Bollywood music and organised Bollywood dances for her sister Alex's hen night and wedding.
Her father, Malcolm, said: "She was a vivacious and vibrant girl, who loved music and bright colours."
The family said they felt moved and honoured by the event, with her mother Rosie adding that it was a "great tribute".
The event, which was organised by Ms Parr's friends, caught the attention of thousands of people.
For many taking part, it was their first attempt at Bollywood dancing.
Eloise Fox said: "It's my first time in a sari and I love it."
Rob Dunderdale, one of the organisers, said: "It's amazing to think that three event amateurs pulled this together. I didn't think it would all come together until today."
Another organiser, Shameela Kylassum, said that putting the event on within seven weeks was "manic" and "a total rollercoaster ride".
"People I'd never met before got in touch and offered to help," she said.
"It just shows how wonderful people are."
Ms Kylassum added that she now wanted to do the event annually, saying: "Next year, we'll do it in Trafalgar Square."
Organisers have to wait for adjudicators to verify the number of people who took part before they will know if they broke the world record.
People continued dancing in the park after the record attempt led by choreographer Jay Kumar, who said he provided the dance routine for free after hearing about the event on Facebook.
"Jai Ho is a great song to dance to because it crosses over boundaries - many non Asians understand 'Jai Ho'," he said.
Related Internet Links
The BBC is not responsible for the content of external sites.