Children held at Heathrow Airport in 'degrading' conditions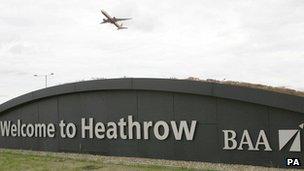 Children are being held in "degrading and disgraceful" conditions at Heathrow Airport by the UK Border Agency (UKBA), a report has said.
The Independent Monitoring Board (IMB) said rooms were "small and stuffy" and children, at times, spend the night at the non-residential facility.
But the UKBA stressed the problem lay with Heathrow operator BAA offering only poor quality accommodation.
BAA said however, that the UKBA had not raised any concerns with it.
The IMB report shows that in 2011, up to 3,000 people were held for more than 12 hours, requiring many - including children - to spend the night there rather than at immigration removal centres.
The government-appointed IMB for Heathrow Airport was set up five years ago to monitor the welfare of people held in the non-residential, short-term holding facility. Up to 15,000 people are held there each year.
In the report, inspectors said the rooms where children were held had no natural light, no access to the open air, and no sleeping arrangements.
The rooms had only hand basins and children were kept with unrelated adults. The report added that Terminals 3 and 4, had the worst accommodation.
"The conditions under which children are held and that detainees have to endure overnight are degrading and disgraceful," the it said.
A IMB spokesman said it recognised that children "cannot always be admitted to the country straight away and are sometimes held for their own protection".
"But it recommends that non-custodial, child-friendly accommodation is provided at Heathrow for families with children as a matter of urgency," he said.
The report noted that care for detainees had improved over the past five years.
However, it added: "The accommodation remains unsuitable for anything but a very brief period of detention and is quite inappropriate for holding children or for overnight use.
"Improvements to the accommodation were promised in 2011 by the UK Border Agency, but very little has happened."
A UKBA spokesman said it shared the IMB's concerns about the quality of accommodation.
"We have raised this with [BAA] on numerous occasions in the past and will continue to do so to ensure those held at the border have proper facilities to meet their and our needs," he said.
However, a BAA spokeswoman said: "We have not seen the report and therefore can't comment but are somewhat surprised by UK Border Force's response, since we have had many meetings with them recently and it has not been raised."
Related Internet Links
The BBC is not responsible for the content of external sites.