Men sentenced to life in McDonald's queue murder in Brixton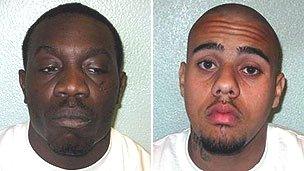 Two men convicted of shooting dead a stranger after a row in a queue at a McDonald's in south London have been sentenced to life at the Old Bailey.
Devon Scarlett, 32, was shot twice in Brixton in April 2011. Horace Campbell, 28, and Liam Douglas-O'Callaghan, 18, were found guilty of murder.
Mr Scarlett, of Croydon, had agreed to a "shoot-out" in Marcus Garvey Way.
Campbell, of Anerley, was jailed for a minimum of 32 years and the teenager was detained for a minimum of 18 years.
Campbell and Douglas-O'Callaghan, of Tulse Hill, both from south London, denied murder.
A "trivial argument" led to the death of the father-of-four, Judge Hawkins said.
Sentencing the pair he said: "The two of you quickly despatched Devon Scarlett without mercy."
The court heard the victim had become involved in "someone else's argument" with Campbell while in the queue early in the morning.
The two were escorted out of the restaurant but the argument continued and they decided to settle the matter with a shoot-out in Marcus Garvey Way.
Campbell called Douglas-O'Callaghan asking him to get the "thing". The victim also pretended to make a similar call, the retrial heard.
Three shots were fired at Mr Scarlett, two of which hit him.
Bobbie Cheema, prosecuting, told the trial: "Horace Campbell was determined to avenge the perceived lack of respect that Devon Scarlett showed him.
"Devon Scarlett acted with foolish bravado, behaving like a tough guy, but whatever he said and did, he was not armed."
As he walked away after the shooting Campbell said: "You are not so hot now", the court heard.
Det Insp Henry Lindsley said: "Unbelievably, Devon Scarlett's murder was triggered by the most minor of incidents that Horace Campbell chose to involve himself in.
"His arrogance and obvious disregard for life is evident when, even after Mr Scarlett walked away from him, he continued spoiling for a fight."
Related Internet Links
The BBC is not responsible for the content of external sites.