Social housing allocation changes in sight for London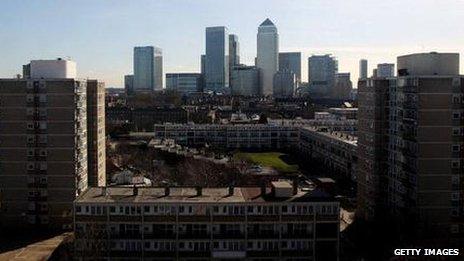 A London council is proposing to change its allocation criteria for social housing.
Hammersmith and Fulham Council said it plans to give priority to people in work or training, ex-service personnel and foster carers.
It promised its new system would be "fairer and prioritise people making positive contributions to society".
Housing charity Shelter said the council was right to protect the vulnerable as a priority.
At present anyone living in the UK can apply to go onto the register of any council.
In Hammersmith and Fulham 10,300 are currently on the waiting list.
People on the list are graded according to priority and 94% of them are in the lowest priority bands.
One person has been on the waiting list in Hammersmith and Fulham for 36 years.
Only 470 new lettings were made in the borough in 2011 due to "stretched resources".
In 2010, 131,000 bids were made for council homes and each three bedroom property attracted 157 bids on average.
The council is planning to review tenancies every five years to ensure its criteria is being met.
Councillor Andrew Johnson, Hammersmith and Fulham's cabinet member for housing, said: "These proposals are about rewarding hard working families who are local to the borough.
"At the same time we will continue to house elderly people and others who are vulnerable."
Tom Lloyd, deputy editor of Inside Housing, said: "Barnet, Richmond, Westminster and Wandsworth councils, which have published proposals to date, have come up with similar policies.
"This maybe because they have independently come to similar conclusions or it could be that the Government has issued fairly rigid guidance.
"There will always be certain core groups - people who are homeless or in overcrowded accommodation - who will be in greater need of homes.
"But how much of an impact will new policies actually make given there are still so few houses available to councils?"
In Westminster consultation on future housing policy ended in April.
One of its plans would see households with an income greater than £61,400 paying higher rent.
The council said changes to tenancy arrangements are unlikely to be implemented before the end of the year.
Kay Boycott, Shelter's Director of Communications, Policy and Campaigns said: "It is right that Hammersmith and Fulham takes measures to protect the people least able to afford a home, there will still be many people left over who will struggle to afford other types of housing.
"In this borough, as in many across London and beyond, incomes and rents are totally out of step - in Hammersmith and Fulham a household would need to earn more than £74,000 to afford the rent on a private property with just two bedrooms.
"This situation throws into stark relief yet again just how desperately short of affordable homes we are in this country."
The National Housing Federation (NHF), which represents housing associations throughout England, said a lack of affordable housing in London means difficult decisions have to be made.
NHF's Kate Dodsworth said: "With the average house price in Hammersmith and Fulham at more than 19 times the average income, ordinary Londoners are simply being priced out of the private sector.
"This places ever-increasing pressure on social housing.
"London's housing market is broken at all levels and the capital urgently needs a range of affordable housing to meet the needs of Londoners with different incomes and circumstances."
The public consultation in Hammersmith and Fulham begins on 22 May and ends on 17 July.
Related Internet Links
The BBC is not responsible for the content of external sites.