Tommy Hollis: Baby lamppost death ruled accidental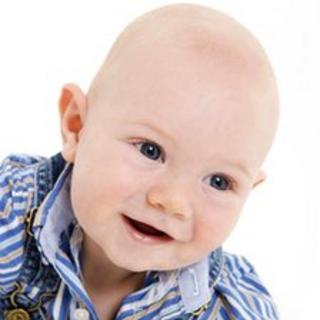 The death of an 11-month-old baby killed by a falling lamppost was accidental, a jury has ruled.
Coroner Elizabeth Pygott told the jury it was the only possible conclusion after hearing details of the death of Tommy Hollis in west London.
The baby suffered a head injury in Chiswick on 23 February 2010.
His mother Kate Hollis said the council and a workman who cut the lamppost's metal support plate should have given evidence at the inquest.
Tommy died in hospital 48 hours after the accident, which also left a woman injured as she walked past pushing her granddaughter in a buggy.
'Upset and anguish'
Workman Kelvin Elmore had cut the metal support plate not realising what it was, the three-day inquest heard.
The plate had become exposed after a trench was dug during a road widening scheme outside Chiswick Town Hall.
Mrs Hollis said after the hearing: "We did not expect our upset and anguish to be compounded by what we feel was the coroner's decision to exclude from consideration questions and evidence that might lead us to better understand how our son, Tommy, was killed in February 2010.
"We feel let down that crucial witnesses were not called or declined to answer questions.
"In particular, Kelvin Elmore, who cut the plate, chose not to give evidence and explain to the court, in person, why he did what he did."
She added: "Hounslow Borough Council, under whose control these works were carried out, have been notably absent from these proceedings.
"We would also like to know why there was no engineer on site at or around the time of the cut to the lamppost when it was apparent that the job was becoming more complicated; and how no-one realised that the plate was connected to the lamppost despite it being so close."
'Utterly devastated'
After hearing all the evidence, Ms Pygott told the jury: "The only conclusion I am, in fact, going to leave to you is that of accidental death.
"The issue of statutory liability for health and safety matters is not for this court and I do not consider that there is any evidence of a gross error that could give rise to any other conclusion.
"But I should add, for your information, that the fact of an accidental conclusion is not a bar to any prosecution or civil proceedings. It is simply a conclusion limited to this court."
Ms Pygott said her decision would not bar prosecution or civil proceedings.
The inquest heard Mr Elmore, who works for construction firm McNicholas, tried to remove the metal structure thinking it was part of an old tramline.
The inquest heard he was "utterly devastated" to learn of Tommy's death.
He was found guilty of gross misconduct by his company and given a written warning.
His colleague Chris Odd told the inquest there had been a sense of "urgency" to complete the work, after direction from Hounslow Borough Council.
The Health and Safety Executive is currently investigating.
Following the inquest, a Hounslow Council spokesman said: "There was a suggestion during the inquest that undue pressure was placed on contractors by the council to hurry up the work.
"This was not supported by the whole of the evidence.
"We would never compromise safety by placing pressure on council officers or contractors to rush to complete work."
The Ministry of Justice said it did not comment on individual cases.