Ray Winstone calls Sam Hallam conviction 'outrageous'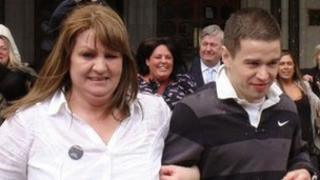 Actor Ray Winstone has criticised the police and demanded answers after a man who served seven years for a murder he always denied walked free from court.
Sam Hallam, 24, who was jailed in 2005 for the murder of Essayas Kassahun, was freed by the Court of Appeal earlier.
Mr Winstone, the uncle of Hallam's best friend, said there had been "an outrageous miscarriage of justice".
The Metropolitan Police said they could not comment on the case until the judgement had been delivered.
'Seven years lost'
Speaking after Hallam was released on bail at the Court of Appeal, the actor said: "So why did an innocent man serve seven years?
"For me it is the disgraceful, unprofessional action of the police involved in this case. Action that has caused a terrible stress within the family of the Hallams."
The Londoner said Hallam's family had been left "broken-hearted" by the "tragic suicide of Sam's father".
Terry Hallam was found hanged in October 2010.
He said: "Sam is free, but has lost seven years of his young life. The family can now hopefully rebuild their lives.
"But they can't bring Sam's dad back."
In a statement Mr Winstone said Hallam was nowhere near the scene of the crime, people at the scene said he was not there, he was not captured on CCTV and there was no evidence linking him to the crime.
"Someone must answer for this outrageous miscarriage of justice," the actor said.
"A young man lost his life. His family will never get over that.
"The killer is out there because the police involved in this case did not do their job.
"Who will answer for this miscarriage of justice?"
Hallam was freed on bail after the prosecution said it would not oppose his appeal against the conviction for the murder of the 21-year-old chef in Clerkenwell, central London, in October 2004.
Lady Justice Hallett will deliver her judgement at the Court of Appeal on Thursday.