Oyster card refunds to be claimed online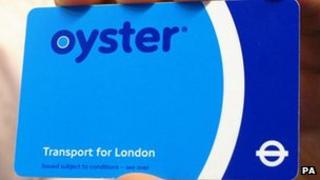 Passengers who have been overcharged on their Oyster card will soon be able to claim a refund online.
Transport for London (TfL) has announced plans for passengers to claim the money back on the Oyster website instead of calling the helpline.
The plans are part of a revamped website which now allows season ticket or pay-as-you-go users to look back at their journey history and fares paid.
TfL said last year, passengers overpaid by £20m.
This happens when passengers are charged the maximum fare when they forget to touch out at the card-reader at the end of a journey.
'Correctly' charged
TfL said passengers could use their journey history on the website to claim for work expenses rather than having to contact the Oyster helpdesk to ask for a printed journey history to be posted to them.
Although a specific date has not been announced, passengers will be able to claim for refunds later this year.
Shashi Verma, TfL's director of customer experience, said: "Oyster cards are used by millions of Londoners every day but we totally understand the frustration felt by the small percentage of customers who forget or are unable to touch out at the end of a journey.
"Having the online account allows users to easily check that they have been correctly charged without having to contact a call centre."