Ali Koc jailed for life for north London double murder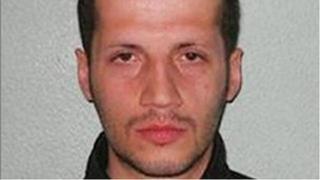 A man has been jailed for life for two murders and a string of "senseless" assaults in north London.
Ali Koc, 30, of Hornsey, was convicted of two murders and five counts of grievous bodily harm on Wednesday, after a month long trial.
He pounced on his victims during a crime spree of "violence for violence's sake", leaving them battered in parks close to his home, the court heard.
The Woolwich Crown Court judge told Koc he would serve a minimum of 35 years.
The time he has already spent in custody will be taken into account.
Koc's oldest victim, Keith Needell, 84, was pronounced dead on 16 July 2011- nearly six months after he was attacked in in Queens Wood, Haringey.
Victor Parsons, 67, who was attacked near Alexandra Park, Haringey, died on 22 February last year.
The assaults happened in Alexandra Park, Priory Park, Queens Wood and Downhill's Park, all in Haringey.
'Fondness for fighting'
Mr Justice Calvert-Smith told Koc the unprovoked attacks illustrated the "diverse nature of London's population and the best and worst of its citizens".
He said Koc, a Turk with 18 previous convictions, had a "fondness for fighting".
The judge said Koc was a man who spent his days watching violent films, listening to music and wandering the streets, adding: "The attacks were vicious, random and with no motivation other than, in the words of one of the victims, 'the infliction of violence for violence's sake'."
During a four-week period in January 2011, Koc targeted lone men, selecting dog walkers, joggers or people who were simply out walking.
His victims, aged between 29 and 84, were "violently and indeed senselessly" subjected to either head-butting, punching, kicking or battery with lumps of wood, prosecutor Brian Altman QC told jurors at his trial.
'Brutal and sadistic'
Detectives said they had not ruled out the possibility Koc may have pounced on others.
Each time he attacked the victims within a 2.5km (1.6 miles) radius of his own address.
The attacks usually happened before mid-morning or around lunch time.
Det Ch Insp Tim Duffield from the Metropolitan Police described the spree as "brutal and sadistic".
"There can be no doubt that Koc is a highly dangerous and predatory individual who derived some warped sense of gratification from carrying out these abhorrent attacks," he said.
Paying tribute to Mr Parsons, his sister Rosemary said: "He was a good brother who stood by me when I needed him. He will be sadly missed."
Mary Needell, Mr Needell's wife, said: "Such a kind and gentle man should never have suffered in such a brutal and senseless manner."