Beggars at Marble Arch targeted by Metropolitan Police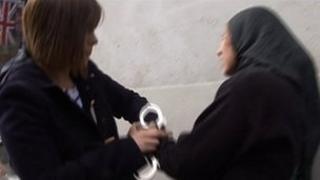 Rough sleepers and beggars in central London have been targeted in an operation involving the police and the UK Border Agency.
The Metropolitan Police believes some are impersonating police officers and targeting tourists.
The operation followed reports that homeless people, largely from Romania, have been gathering around Marble Arch.
On Thursday night 13 people were arrested, including four pregnant women.
Police claimed the women were using their pregnancies to encourage people to donate more.
'We have nothing'
One woman said she begged because she had to make money to eat and it was better to do that than to steal.
Another woman said: "We came here to clean green spaces to work, because we have nothing at home."
It is not known how many beggars are in central London.
Police are seeking anti-social behaviour orders to remove people from the area.
Sgt Diana Hurd said: "We've been working a lot with the Romanian embassy and with some of the other teams about sending back the message that it isn't brilliant here.
"You can come here but you will be arrested if you beg. But they are coming from such places that they view any sort of life is better than what they have in Romania."