London 2012: Campaign begins for River Lea Olympic path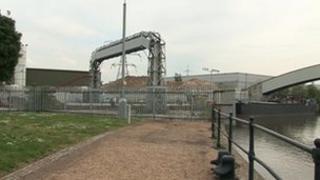 A campaign has begun to open up a 26-mile pedestrian route alongside the Lea River in time for the Olympics.
Charity Gasworks Dock Partnership is hoping to raise £83,000 to transform the derelict Cody Dock, connecting the two halves of the path along the east London river.
The Mayor of London Boris Johnson had promised in his manifesto to redevelop the River Lea Valley.
His spokeswoman said he remained committed to the redevelopment.
The scheme is supported by mobile phone firm Vodafone, Poirot star David Suchet and singer Billy Bragg.
Project creator Simon Myers said: "We've got three weeks left to raise £83,000.
"But with the support of Vodafone and other locally-based firms, we can transform this corner of east London in time for the Games."
Mr Suchet, a keen boater and chairman of the River Thames Alliance, said: "One of London's most historic docks currently sits behind lock and key in a neglected corner of the capital.
"This brilliant grassroots project will reinvent it as a vibrant home for artists, entrepreneurs and boaters."
Without the redevelopment, tourists arriving by cable car will have to walk to the nearest DLR station, Royal Victoria, take the train to Stratford, walk through Westfield shopping centre and then across the Olympic Park to reach the stadium.
Cyclists will find the journey harder still as the DLR does not accept bikes.
They would have to pick their way through housing estates, industrial warehouses and flyovers to reconnect with the River Lea at Abbey Mills.
The spokeswoman for the mayor said: "The Mayor of London is committed to the redevelopment of the Lower Lee Valley and the wider east London area.
"The mayor's team has met with the Gaswork Dock Partnership offering design advice and supporting their relationship with Newham Council regarding the regeneration of Cody Dock."
Donations are being collated by online company Spacehive.