New platforms opened at Blackfriars Station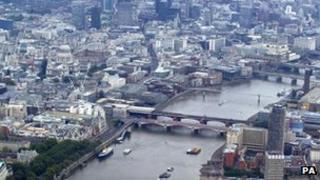 Two new platforms have been opened at Blackfriars Station as redevelopment work nears completion.
The new platforms will enable 700 extra trains to use the station each week.
Trains will also be able to arrive and depart later at night and on weekends. For three years the local section of the route has been closed every night and almost every weekend for work.
But Network Rail cautioned there was still plenty more work to do at the station.
Senior programme manager for Blackfriars, Paul Byrne, said: "Our work to rebuild Blackfriars is approaching completion.
"We've still got a plenty of work to do before the Blackfriars upgrade is completed, but more areas of the new station are opening month-by-month, train services are improving, and passengers are seeing the benefits."
Network Rail has rebuilt Blackfriars station on top of a Victorian rail bridge, creating the only station in London to span the River Thames.
The new station roof, built on top of the bridge, is being fitted with 4,400 solar panels to create London's largest solar array.