Richard Wilson sculpture to dominate Heathrow's Terminal 2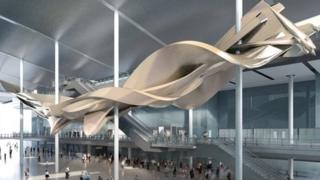 Plans for a large sculpture which will dominate Heathrow Airport's new £2.5bn Terminal 2 have been unveiled.
Designed by Richard Wilson, the sculpture combines precision engineering with the "sense of velocity and movement of a stunt plane".
At more than 70m (230ft) long and weighing 77 tonnes (77,000kg), it is said to be the longest permanent sculpture in Europe.
Called Slipstream, it aims to "transpose the thrill of an air show".
The aluminium sculpture will be positioned between two walkways within the terminal, which is set to open in 2014, and will be 20m (65ft) above the ground.
Project curators, Futurecity, conceived the commission on behalf of Heathrow Airport and ran an international competition to select an artist for the project.
Structural engineers Price & Myers and specialist fabricators Commercial Systems International (CSI) have been tasked with making the sculpture.
The sculpture's design uses cutting‐edge computer programming technology, usually employed by the aerospace industry, to translate the volume of an aircraft's movement through space.
Wilson, a renowned sculptor who has represented Great Britain in the Sydney, Sao Paulo and Venice biennials, said Slipstream would be "a very elegant sculpture, with a streamlined, undulating surface that reflects the light in all sorts of ways".
"The riveted aluminium surface will highlight the contours of the piece," he added.
Slipstream was chosen from a short list of five artists by both Heathrow and independent assessments from well‐known art professionals.
John Holland‐Kaye, Heathrow's commercial director, said Slipstream was "an iconic piece of art that will bring to life the glamour and excitement of air travel, at the heart of a glamorous and exciting new Heathrow."