First Capital Connect's 'back door' fare rise?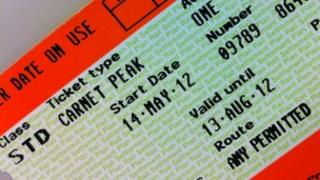 "It's a con."
Those were the words used by rail staff at King's Cross this morning when I asked them about sudden changes to the Carnet system.
The Carnet is a European idea and is very popular.
It means you can buy 10 tickets for the price of nine peak. You could also buy the same off-peak. In turn, I assume, it reduces queuing at the ticket office.
What it also means is that if you worked 9am-7pm you could mix the two.
Not anymore.
Line opening
From today First Capital Connect (FCC) has decided to change the Carnets so they now have to include five inbound and five outbound tickets.
That means half of the tickets, if you work 9am-7pm, are useless and so you will have to buy a more expensive peak day return.
Today was meant to be the day FCC was celebrating the first day of the opening of the Bedford to Brighton line.
In fact it has implemented a back door fare rise on some of its travellers (I declare an interest here as I'm one of them).
Without consultation
What it shows is there is actually very little protection for some commuters when it comes to this type of fare change.
Anthony Smith, chief executive of Passenger Focus, said: "Carnets are not regulated so train companies can change them at their own discretion.
"We think train companies should do a lot more to promote the use of Carnet type tickets; doing this is not going to help.
"There are a lot of people out there that do not work five days a week, 9am to 5pm, and they need tickets that work for them.
"We have made this point to the Department for Transport and they have put it as a suggestion in their fares and ticketing review."
So it seems FCC can change Carnets without consultation and without notice.
As a commuter said to me: "This is actually punishing those who are working harder and working later. That's after the government says it wants people to work harder.
"It's nothing more than a back door fare rise."
'Open to fraud'
The lack of communication in particular breeds resentment amongst its own customers.
This is what FCC have said to me today: "Carnets are sold as tickets of 10 and were introduced in 2009 on both routes (offering 10 for the price of nine to/from London and certain Cambridge services).
"Because they are valid in any direction for three months and are non-date specific, our ticket gates don't retain the tickets upon returning to the home station.
"This left them open to fraud and we had examples of dishonest customers using them again and again.
"Every year, fraudulent travel costs the rail industry £400m which could otherwise be reinvested in better services for honest fare-paying passengers.
"By selling the Carnets as five return tickets, ticket gates will retain the ticket at the end of the journey and address this fraud. The outward and return portions of a Carnet ticket do not have to be used on the same day.
"This brings us into line with other train operating companies around the country. We tried with our suppliers to find a technological solution and keep the original offer, right up until the last minute of the fares change on Sunday which is when this change can be effected.
"However, this is the only way we can retain this popular product. We have publicised the change on our website and posters and leaflets will be issued shortly."
Please let me know what you think.