Bee Gees singer Robin Gibb's War Memorial Campaign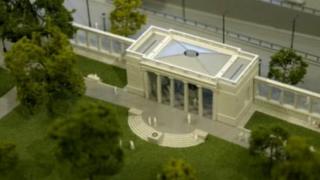 There has been much talk about Robin Gibb's contribution to popular music since the announcement of his death.
But he will be remembered by a much older group of men for a very different reason. This was another side to the former Bee Gees singer that many people rarely saw.
Several years ago I made a film with RAF veteran, singer, broadcaster and all round humanitarian Cy Grant.
He and a number of his former air force comrades had decided that a memorial was needed to celebrate the lives of the 55,573 Bomber Command servicemen who lost their lives trying to turn the tide of World War II against Germany.
'Thank you'
I was told that the one man at the heart of the campaign to raise funds for the memorial was Mr Gibb.
I confess at the time I was a little surprised.
He and his friend Jim Dooley of the 60s pop group The Dooleys had rallied support from their music industry friends to help raise funds for the memorial that is now nearing completion on the corner of Hyde Park inside the boundary of Green Park.
Robin Gibb was the longstanding president of the memorial's heritage foundation.
The Bomber Command Association recognised that huge commitment saying: "Robin did his bit for all who served in Bomber Command and on the behalf of the veterans and the relatives of those who died in World War II, we would simply like to say, 'thank you'."
'Huge compassion'
We met on several occasions, however the first time was in the RAF church of St Clement Danes at the top of the Strand.
Talking to him I was struck by a man of genuine modesty and huge compassion - he really believed that those young men who had gone to war doing their duty knew they had every chance of being killed in action.
Mr Gibb felt it was the duty of younger generations to fight for the recognition those men were denied after the war because of political sensitivities over the extensive damage caused by the bombings of German cities.
Although he remained committed to making music to the last, he also remained committed to the memorial and the humanity and sacrifice that it stood for.
He was its most prominent celebrity cheerleader from the start and I am sure it will be a matter of great sadness for those involved that so many of the men who fought for it to be built will not see it being opened by the Queen in June.
It is perhaps fitting that the man who gave us hits like Stayin' Alive will have made such a commitment to keeping the memories of others alive right at the heart of our capital city.