Longest trumpet fanfare line world record set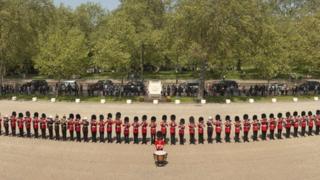 The Guinness World Record for the longest line of fanfare trumpeters has been set in central London.
A group of 91 trumpeters, made up of seven different military units, decked in full ceremonial uniform, set the record at Wellington Barracks.
The trumpeters simultaneously played the Wedding Fanfare, which resonated all the way to Buckingham Palace.
Organisers said the record had not been attempted before.
The attempt was staged by Victoria Business Improvement District (VBID) to mark the run-up to the Queen's Diamond Jubilee.
The world record was one of 20 being attempted in London in the build-up the jubilee, aiming to show the capital to be a multi record-breaking city.
Ruth Duston, chief of VBID said: "This was a wonderful event, showcasing the wealth of cultural activity Victoria has to offer as well as celebrating our close links with the Royal family."
Conservative Westminster City Councillor said: "It's a fantastic and highly original way for this part of central London, with its very close Royal connections, to celebrate Her Majesty's six decades on the throne."