Met Police offer all crime victims home visits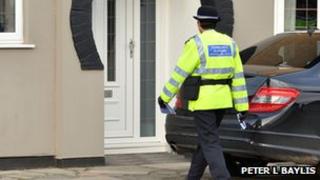 A victims' charity has welcomed the Metropolitan Police's decision to offer all victims of crime a home visit by a police officer.
Victims of offences such as criminal damage and bike theft will have the choice of reporting the incident over the phone, attending a police station, or making an appointment for a visit.
The Met has also started to attend all vehicles that have been broken into within an hour.
Victim Support welcomed the move.
'Bottom of pile'
It is part of the "total policing" pledge made by Commissioner Bernard Hogan-Howe, appointed last year, said the Met.
The force said an extra 3,000 people had received a visit from the police in the past three weeks, a 55% increase.
A spokesman said compared with police forces of a similar size, in the West Midlands, Greater Manchester, Merseyside and West Yorkshire, London was "bottom of the pile" in terms of what he called victim satisfaction.
He said anecdotally the offer of police visits had been well received, with a quarter of those offered a visit taking it up.
Asked if police could afford the time spent making house calls, he said the situation was being monitored and so far there had been no impact on emergency responses.
Assistant Commissioner Simon Byrne, head of territorial policing, said: "This new scheme is not just about improving care to victims - we're also doing this to help catch more criminals.
"By quickly attending vehicle crimes there's a better chance of capturing potential forensic evidence."
Jeff Gardner, from Victim Support, said the organisation had been calling for victims to be kept informed after reporting a crime.
He said: "We know that lack of information from the justice system is a massive concern for many victims.
"We welcome the Metropolitan Police's new initiative to give all victims of crime a home visit.
"This will not only give victims a better service but reassure them that the police are taking their case seriously - and encourage other victims to come forward.
"We would also like victims to be kept up to date on the investigation as it progresses or if it is dropped, to be told why."