Accused masseur Daniel Pytlarz talks of celebrity clients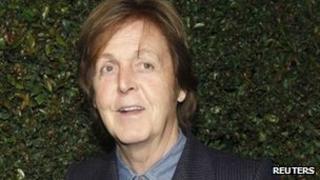 A masseur from north-west London on trial for allegedly sexually assaulting a former employee of Sir Paul McCartney has spoken of his celebrity clients.
Daniel Pytlarz, 35, of St John's Wood, faces 14 charges of sexual assault and seven counts of assault by penetration.
Mr Pytlarz, who denies the charges, told Southwark Crown Court that he treated Nancy Dell'Olio and that he had met Sir Paul's daughter Mary.
He said it was "very special" to have a celebrity clientele.
The court heard that he opened his spa - The Violet Clinic - in St John's Wood after he found empty premises near a pilates centre which, he believed, was frequented by Madonna.
Jurors were also told that he treated Ms Dell'Olio, the then partner of former England manager Sven Goran Eriksson, shortly before his arrest.
He said he also treated classical pianist James Rhodes.
Asked whether he considered it important to establish a celebrity clientele, the masseur replied: "For me myself, it was very special.
"I come from a town of 400,000 people from Poland and I suddenly met royalty from Saudi Arabia, Mary McCartney and her husband Simon and even her child who looked like a little Paul."
The married churchgoer insisted he would never have deliberately touched a client in an inappropriate way.
He said: "I'm shocked. I'm also angry ... I didn't do that. I didn't assault anyone."
The court has heard how Mr Pytlarz allegedly sexually assaulted a former employee of Sir Paul McCartney the day before the Beatles star was due to have a massage.
She was said to have been left "panicked, distressed and traumatised" by the ordeal in December 2009, telling her boss and his daughter what happened.
They cancelled their appointments, as did Sir Paul's then-girlfriend, jurors have heard.
The trial continues.