Met Police crackdown on economic crime in London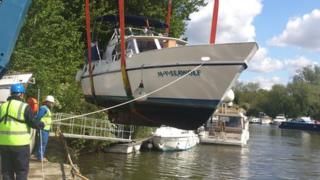 Police have arrested 93 people and seized £1.5m in raids targeting economic crime in London.
Officers have also taken a yacht, 500 cannabis plants and two replica firearms, during the initiative dubbed Operation Stimtone.
It is focussing on those allegedly involved in money laundering, identity fraud, handling stolen goods and conspiracy to defraud.
More than 900 officers will take part in 300 raids in all 32 London boroughs.
The Metropolitan Police said it was the biggest ever day of action it had organised focussed on economic crime, which it said costs London tens of millions of pounds every year.
In the past year the Met has seized more than £15m in cash from more than 1,500 economic criminals.
Officers involved in Operation Stimtone have executed search warrants, undertaken covert operations and visited pawnbrokers, bureaux de change, storage companies and scrap metal dealers to prevent money laundering.
'Affects us all'
Met Police Commander Allan Gibson, who is leading the operation, said: "Economic crime is not a victimless crime.
"It affects all of us as law abiding members of the public.
"We ultimately end up paying the price for crimes against businesses through increased taxes, insurance premiums and the price of goods."
The British Retail Consortium is advising the Met.
Its Director General Stephen Robertson said: "Retailers themselves spend hundreds of millions of pounds on crime prevention.
"Offenders who target retail are likely to be involved in other offences.
"So retailers have a wealth of valuable intelligence that the police can use to tackle crime that affects communities well beyond retail."