London 2012: Westminster parking wardens introduced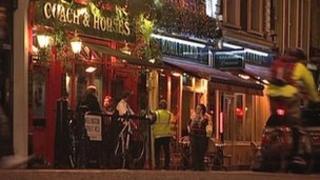 Westminster City Council has introduced a new patrol of wardens in London's West End to enforce parking regulation ahead of the Olympics.
The Tory council said 10 marshals were assisting deliveries to firms between 06:00 and 10:00 in Leicester Square.
The number of wardens on patrol is expected to rise to around 40, working throughout the night, during the Games.
But the Labour leader of the council said: "Our concern is that they will be used to raise more money."
"Westminster's reputation on parking is at rock bottom and if these new wardens are used to trap motorists, this will further damage the credibility of the council," Paul Dimoldenberg said.
'Exceptionally busy'
Conservative councillor Daniel Astaire, cabinet member for business, said: "They do have the power to give out tickets to drivers who are parked illegally.
"But their role will be very much to look after people using the roads, give advice and help maintain a steady stream of traffic during what will be an exceptionally busy time."
In January, Westminster council announced it would scrap a plan to charge for evenings and Sunday parking in the West End.
The new levy of up to £4.40 per hour was to run until midnight, Monday to Saturday and on Sunday afternoons.
The move was meant to ease congestion in the West End but provoked widespread opposition with protest groups claiming it was aimed at raising revenue and not cutting congestion.
Meanwhile, London 2012 has set out its traffic management and parking plans for the Games , while Transport for London (TfL) is finalising plans for the Olympic Route Network (ORN), which will see 30 miles of Games lanes used mainly for Olympic traffic.
The ORN will operate from 25 July and a similar system for the Paralympics, the Paralympic Route Network, will end on 14 September.