London 2012: 'Boris Bike' staff to ballot for strike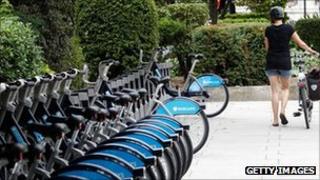 Staff at the bicycle hire scheme in London are to be balloted for a strike over pay and working conditions.
The RMT union said its members were concerned about changes to shift patterns and a lack of financial reward for the increased Olympics workload.
General secretary Bob Crow said staff were facing a "bullying management" who were imposing "outrageous changes" to service conditions with no extra pay.
Serco, who operate the scheme, said it had consulted staff on the changes.
It comes as London Underground staff struck a deal over Olympics pay.
Mr Crow said: "The London Cycle Hire Scheme is much more than a vanity project and a publicity stunt for the London Mayor. It is now a valuable part of our transport system and the staff should be valued as such."
'Not recognised'
Serco, who operate the scheme - often nicknamed "Boris Bikes" - said it had sought to maintain a "productive and mutually respectful relationship" with staff.
In a statement the company said: "We have an existing voluntary recognition agreement with the Community Trade Union and we are holding a meeting on 12 June to discuss working arrangements for the Olympics.
"Serco has been in consultation with our staff with regard to changes to working conditions and workload and shift patterns have been changed as a result."
The statement added all proposed future changes would be subject to consultation and the RMT was not a recognised union at the hire scheme as they withdrew their application to be recognised on this contract on 24 May.
A spokesman for Transport for London said as the service was contracted it out, it could not comment.