London 2012: Firms in legal action against TfL and ODA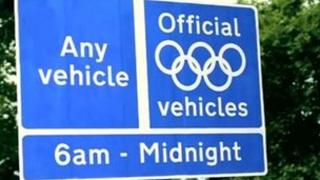 London 2012 organisers are facing a legal challenge over plans for road closures which small firms say could put them out of business.
Law firm Bindmans has written to Transport for London (TfL) and the Olympic Delivery Authority (ODA) on behalf of 50 small firms.
It said proposed road closures and restrictions would be "fatal" to firms located close to the Olympics Park.
The ODA said firms had been given "every opportunity to adapt".
Outlining a proposed legal action, Bindmans said 50 small firms "in the shadow of the Olympic stadium" were poised to launch a legal bid "for survival as the full impact of 13 weeks of planned road closures during the Games becomes clear".
It added: "The businesses, all small to medium-sized and British-owned, are dependent on road access to make and receive deliveries and for customers.
"They believe the planned closures, lane and time restrictions on the roads will make operating near impossible and the impact on trade will be fatal to many."
Graham Phelps, of Phelps Transport, a haulage firm among those proposing to make the legal bid, said: "We have tried for months to get the Olympic authorities to take our concerns seriously but they have been indifferent throughout the decision-making process.
"There has been no impact assessment, no discussion of mitigation measures and no compensation offered. Now, just weeks from the opening ceremony, the true consequences of what is planned are becoming clear.
"Our businesses are dependant on road access. That is going to be choked off for most of the Olympics and Paralympics."
An ODA spokesman said: "Engagement with businesses affected by the Games has gone far beyond our statutory obligations.
"At every stage in making the orders the ODA has acted in accordance with proper procedures.
"While we appreciate that these changes will mean these businesses operate differently during Games-time, we are confident that the comprehensive programme of engagement has given them every opportunity to adapt ahead of their implementation."
A TfL spokeswoman said: "In putting in place our part of the temporary changes required by the Olympics, we have engaged in detail with thousands of businesses and individuals and continue to do so.
"We are happy to continue working with the businesses concerned to help them understand how they can continue to operate during - and benefit from - the Games."