Court backs evicting Occupy London from Finsbury Square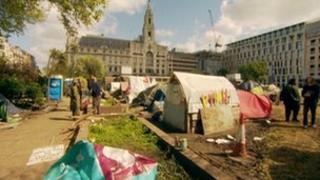 The High Court has backed a council's move to end Occupy London's seven-month stay in a public area in north London.
Mr Justice Hickinbottom said the balance was "overwhelmingly in favour" of granting an immediate possession order and injunction.
He added he was not satisfied the protesters had grounds for defence.
Islington Council said it would not be taking action to move activists from Finsbury Square until after the Bank Holiday.
The camp, which is made up of about 135 tents and a wooden structure, was set up on the public land of the square in October last year.
It was an extension of the Occupy movement's protest at St Paul's.
However that ended when the group was evicted from the front of the cathedral in February.
The judge was told the Finsbury Square camp had caused £20,000 damage to the land and the council had spent £26,000 on security.
The court heard the camp had had hit local businesses and there had been complaints about anti-social behaviour from the camp, which has become a focus for homeless people.
The judge refused permission to appeal although the protesters can apply directly to the Court of Appeal.