Kray pathologist honoured with plaque in Westminster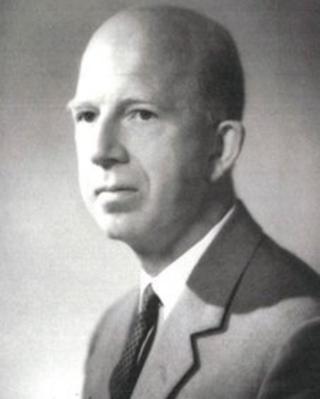 A pathologist who investigated some of the UK's most infamous murders has been honoured with a green plaque in central London.
Professor Cedric Keith Simpson, who died in 1985, worked in the field of pathology for more than 40 years.
He investigated Ronnie Kray's murder of gangster George Cornell in 1966 and the Acid Bath Murders in 1949.
The plaque was installed in Weymouth Street, in Westminster, where he lived.
Professor Simpson taught at Guy's Hospital London and gained the reputation for having carried out more post mortem examinations than anyone else in the world, said Westminster City Council.
The borough honoured the pathologist as part of the green plaque scheme it launched in 1991, designed to recognise those who have made a lasting contribution to society.
Speaking at the plaque unveiling, Conservative Councillor Robert Davis, Deputy Leader of Westminster Council said he was proud to see him "woven into the fabric of Westminster".
He said: "His efforts in his professional life are one of - if not the main - reason that forensic science has such a prominent place in the public consciousness."
In 1949 he had the gruesome task of sifting through human remains after victims were disposed of in a bath of concentrated sulphuric acid.
Picking through gallstones and denture parts, he was able to identify Olive Durand-Deacon as one of the six known victims of the killer John George Haigh, who was subsequently hanged.
His part in the investigation into the shooting of George Cornell in the Blind Beggar pub in Whitechapel, east London, in 1966, led to Kray's life imprisonment.
Professor Simpson became London's first forensic pathologist to be recognised by the Home Office, and in 1975 his long public service was recognised with the award of a CBE.