Diamond Jubilee: Pageant waste cleared up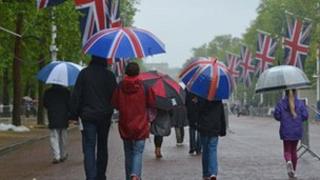 About 70 street cleaners have been work cleaning the banks of Westminster's Jubilee River Pageant route.
Westminster City Council expected to collect 30 tonnes of bunting, flags, banners and champagne bottles left by more than a million spectators.
The clean-up operation involved 21 vehicles and more than 40 brooms - a 90% increase on the usual maintenance for the area.
It took around three hours to complete the clean-up operation.
Councillor Ed Argar said: "Westminster plays host to many big events every year, but this one is 60 years in the making, and we are determined to make sure the city is looking at its best for everyone and to leave it clean for our residents after the crowds have gone home."
Scotland Yard said a total 12 arrests were made during the Jubilee celebrations in London, adding it was "very happy" it was a "largely peaceful day".
London Ambulance, said with the help of staff from St John Ambulance and British Red Cross, it treated 548 people, 101 of them who were taken to hospital.
On Sunday, trains into London were affected by overcrowding, with some people heading to the Jubilee Pageant left on platforms because carriages were full.
Power supply problems on London Overground led to trains being cancelled from Richmond to Barking.
Some passengers took to Twitter to voice their complaints, especially over the fact some rail companies were operating a Sunday service
Emma Bradley tweeted: "SW Trains really should have thought this through. Children literally crying cos can't get on the train at Norbiton, New Malden etc."
A spokesman for the Association of Train Operating Companies said: "There were extra services and extra carriages to get people to and from London yesterday.
"But operators have to take a call on how many services to run based on projected demand well in advance.
"Clearly in instances where overcrowding did cause problems, operators would apologise to passengers.
See all the latest Diamond Jubilee news and features at bbc.co.uk/diamondjubilee