Jubilee weekend boosts West End sales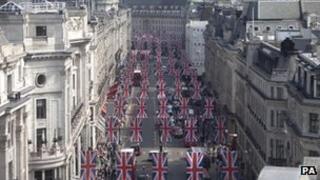 Two million shoppers flocked to London's West End shopping district to enjoy the four-day Diamond Jubilee weekend, retailers have said.
Businesses are hopeful the long weekend will convert into £120m in sales when final calculations are made.
The New West End Company said Bank Holiday Monday saw the number of customers rise by 5% year-on-year.
The company represents more than 600 business in Bond Street, Oxford Street and Regent Street.
New West End Company's director Jace Tyrell said despite a slow start to spending on Saturday and Sunday, the footfall rise on Bank Holiday Monday left him hopeful for the rest of the week as international and domestic visitors enjoyed the half term break.
West End hotels reported strong occupancy rates for the weekend.
The Garrick Theatre, presenting Horrible Histories, was 70% full and 3,500 enjoyed afternoon tea at The Ritz over the weekend, said Mr Tyrell.
Kate Brindley, of Regent Street department store Liberty, said: "The store was flooded with tourists coming to shop."
Managing director of The Ritz Stephen Boxall said his hotel poured 600 bottles of Champagne and served over 3,000 scones and 15,000 finger sandwiches.