Restored and repainted Brixton Windmill mural unveiled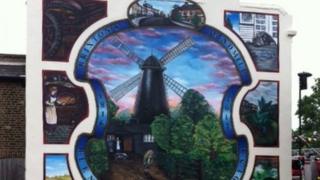 A south London mural, which was painted by local artists in the 1980s but fell into disrepair, has been unveiled after being restored and repainted.
The Windmill Mural, which was the most damaged of Brixton's six surviving murals, was created in 1983 and tells the history of Brixton Windmill.
The mural is around the corner from the Grade II-listed windmill.
Brixton Windmill reopened to the public in May, following a five-year restoration project.
The windmill, which was formally known as Ashby Mill, was built in 1816.
Clapham Film Unit was awarded £32,700 of Heritage Lottery Fund money to make a documentary about Brixton's rare and at risk murals called If Walls Could Speak, and to restore and conserve the Windmill mural.
The shape of the existing mural has been preserved, with the windmill redrawn at the heart of the design.
The sections surrounding the windmill have been repainted with new designs reflecting life in Brixton in 2012, created in collaboration with the community.
Ruth Miller of the London Mural Preservation Society said: "Not only has the project brought the mural back to life but it has tidied up a small part of Brixton Hill and most importantly helped bring together the local community.
"The success of this mural renovation gives hope to other groups wanting to restore their murals and will lead to many more restorations across Brixton and London."