Yemurai Kanyangarara death: Bus killing boy given life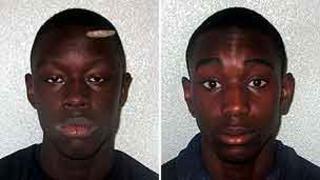 A 16-year-old youth has been given a life sentence for murdering a schoolboy he stabbed in the neck in front of bus passengers in south-east London.
Yemurai Kanyangarara, 16, of Belvedere, was attacked seconds after getting off a 96 bus in Welling last July.
Osman Bangura, of Peckham, who denied murder, must serve at least 14 years. He was 15 at the time of the killing.
Isaac Walters, 15, of Camberwell, who was convicted of manslaughter, received eight-and-a-half years' detention.
A third boy, aged 16, was acquitted of murder at the trial, which ended in April.
Judge Stephen Kramer told the teenagers: "This was a shocking killing involving teenage schoolboys with the forceful use of a knife in broad daylight in a public place."
The jury heard the violence could have been connected to "ill feeling" between pupils from two schools.
Bangura and Walters were students at Blackheath Bluecoat school, and plotted to attack the victim while the pair were on a bus.
Yemurai, who was a student of St Columba's Catholic Boys' School in Bexleyheath, was surrounded as he and a friend got off the 96 bus.
He collapsed close to the bus stop and bled to death from the 3.5in (9cm) wound to his neck.
The judge said he could not say if school rivalry led to the attack, but told the court: "The deceased was not connected in any school feud."