Rapist and killer found at London protest camp jailed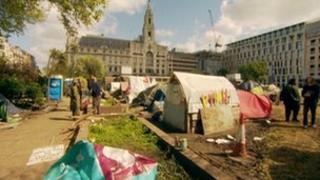 A man with a string of international convictions including manslaughter and rape who was found at a protest camp in London has been jailed for 24 weeks.
Stuart Durkin, 50, was discovered by police last year in Finsbury Square, north London, using the false name "Troy" to target women.
At the Old Bailey, he was sentenced for breaching his bail conditions.
He was also jailed for failing to comply with notification requirements enforced on him as a sex offender.
When he was arrested, he initially claimed someone else called Troy had used his phone, however he was caught sending a text message using that name from a police station after his arrest.
The court heard Durkin had numerous convictions for violent and sexual crimes.
'Highest risk'
In 1984, he was jailed for six years in Sweden for manslaughter, and in 1988 he was jailed by Maidstone Crown Court for 12 years for rape, burglary and assault.
In 1997, Durkin was jailed in Italy for 13 years for rape and attempted murder. He was repatriated to the UK in 2004 to serve the rest of his sentence.
At the Old Bailey, Recorder Nigel Peters QC said: "What's clear is that you are someone who has a history of violent offences and sexual offences and are clearly somebody who is considered at the highest risk end of involvement in offences involving sexual matters and violence."
Durkin, from St John's Wood, north-west London, had earlier admitted one count of failure to comply with notification requirements between 12 October and 14 November last year.
A second count of the same offence, for failing to notify police of his address, was ordered to lie on file.
He was given two months to run concurrently for breaching bail conditions while on an electronic tag.
Durkin, who had a tent at the Finsbury Square site of the Occupy London demonstration, was also banned from staying overnight at any protest camp in the UK.