Raiders steal £600k in jewellery from East Ham shop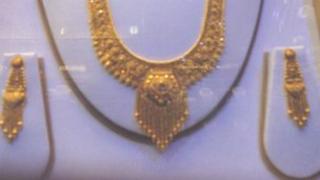 Jewellery worth about £600,000 was stolen during a violent raid at a shop in east London, police have revealed.
Aron Jewellers, a shop in East Ham specialising in Asian jewellery, was targeted on 29 May.
Bracelets, necklaces, bangles and rings were taken by two men, thought to be of Pakistani origin and aged between 30 and 40.
The Metropolitan Police's Flying Squad said the area was very busy at the time and appealed for witnesses.
The suspects had visited three times on the day before the raid.
They put a £20 deposit on a gold chain.
When they returned the next day a female member of staff recognised them and buzzed them into a secure area.
As she then opened a cabinet, one of the men jumped over the display counter, grabbed her around the neck and put something over her face, causing her to pass out.
Bound and gagged
Hearing her scream, an elderly male staff member, who was at the back of the shop, ran to the front and was confronted by the other man.
He was thrown to the floor, something was stuffed in his mouth and he was held face down.
Both victims then had their hands and feet tied up and the female had duct tape put over her mouth.
The suspects then spent approximately 25 minutes emptying all of the display cabinets, stealing more than 500 items.
One of the suspects was wearing a yellow top with a black and white stripe at the bottom.
The other was wearing a black hooded top.