Base jumper killed in Greece 'helped from the start'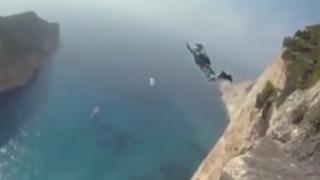 The police commander in Greece where a London base jumper died has disputed reports that he was left without help for three hours.
Police Commander Sotirios Siatis told the BBC that the emergency services were there "from the beginning".
Jake Simkins, 42, died when he fell from a cliff after his parachute became snagged.
Mr Siatis said that Mr Simkins had been parachuting "on his own" and not with a recognised company.
'No foul play'
Mr Simkins, a technical officer for London Underground, died on Friday on Zante where he was on holiday with his seven-months pregnant girlfriend.
He was jumping off the cliff at Navagio beach in the north-west of Zante where Mr Siatis said "an organised group of jumpers came to do similar things" last August and had "no problems".
Asked how quickly help was sent, Mr Siatis said: "The emergency services and the fire brigade were there from the beginning.
"They were there as soon as they were informed as to what had happened and as soon as they could get on the scene.
"It takes around 15 to 20 minutes to get from where we are based to where the accident happened."
He said his job was to make a preliminary investigation to establish the cause of the accident - how Mr Simkins got there, the nature of his injuries and if there was any foul play suspected.
He said: "We have absolutely ruled out any foul play."
But he said he was unable to say whether more could have been done to save him.
Dutch tourist Corne van der Eerden, who saw Mr Simkins crash into the cliff, told the BBC that Mr Simkins told him he might have broken his leg and was going to call his wife from his mobile phone.
Bob Doyle, head of track and signals for LU, said: "Jake was a very promising up-and-coming technical officer who was set for a great future with London Underground.
"His death is a tragic loss which will deeply affect his colleagues and our thoughts are with his loved ones."