Conker row murder: Life for boy who killed Steven Grisales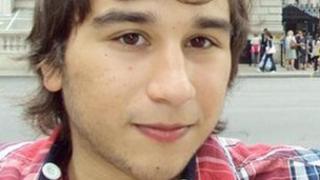 A 15-year-old boy convicted of murdering a student in a row over throwing conkers in north London has been given a life sentence.
Steven Grisales, 21, was stabbed in the heart in College Close, Edmonton, last August after he went to talk to some youths, the Old Bailey heard.
The group had been throwing conkers which were in their spiky casing.
The killer, who cannot be named because of his age, was detained for a minimum of 10-and-a-half years.
He denied being the killer, but was found guilty of murder last month.
'Grim' report
The teenager blamed another youth for the stabbing, but was identified from his distinctive clothing on CCTV.
He claimed architecture student Mr Grisales had overreacted and tried to hit him with a skateboard.
But Andrew Edis QC, prosecuting, told the jury: "This was a sudden, unnecessary killing as a response to a confrontation which took place in the street, which was about nothing very much.
"It was about throwing some conkers."
The defendant had been in court for burglary and robbery and was subject to electronic tag monitoring as part of a rehabilitation order imposed the month before the murder.
The prosecution told the jury the youth had removed the tag two days before the killing.
Judge Richard Marks said the boy's pre-sentence report made "grim reading" and mentioned two incidents with knives, one at school and the other involving his mother.
He added that Mr Grisales had been "an outstanding human being in many ways".
The student had been shopping for his grandmother and was on his way to Silver Street station in Edmonton when he was attacked.
His mother, Jasmid Grisales, said in a statement that her son "always gave without expecting anything in return and he always tried for everyone around him to be happy".
She said: "We lost Steven forever. We have to carry this cross for the rest of our lives."
His father, Andres Grisales said the minimum sentence was too short.
He said: "Ten-and-a-half years for taking away our son, taking away his future, all of his plans.
"It was amazing to learn how many offences he had committed before this - violent offences, robberies.
"He broke his curfew so many times and nothing was done. There was no custodial sentence."
A Ministry of Justice spokesman said sentencing in individual cases was a matter for independent judges as only they had the full facts of the case before them.
But he said work was continuing to "break cycles of reoffending".
Det Insp Richard Beadle, of the Homicide and Serious Crime Command, said: "Steven did no more than stand up to an unruly youth and for that he has lost his life."
He said it was the "courageous intervention" of a local resident which stopped the knife attack from continuing.
"The man placed himself in front of Steven while the youth was repeatedly attempting to stab him again."
He added that the defendant's arrogance and contempt for others belied his age.