Post Office deal signed by Hammersmith and Fulham Council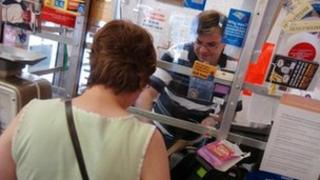 A London authority has struck an agreement with the Post Office to allow its residents to pay for their council services anywhere in the UK.
Hammersmith and Fulham Council said it would allow the payment of bills including council tax, business rates and rent at local branches.
A spokesman said the scheme should be in place by the end of the year.
He said it was too early to say if there would subsequently be a cut in staff at the town hall.
'Increasing choice'
Hammersmith and Fulham Council said it meant that instead of residents having to "traipse" to the town hall, they had 17 Post Office branches to choose from in the borough alone.
The council anticipates this will increase convenience for elderly and immobile people in particular.
Council leader Councillor Nicholas Botterill claimed the borough was "increasing choice and saving taxpayers' cash" and "local Post Office branches will have many more customers coming through their doors".
It is expected to create a saving of around £90,000 a year from 2013/14, said the council.
Westminster Council has a similar arrangement in place but Hammersmith and Fulham Council signed a "pan-London framework agreement" said the Post Office.
Rolled out
That agreement will be made available for other London boroughs to join, said the council.
The Post Office said its "vision" was for the example to be rolled out.
Richard Gutsell, Director of Government Sales at Post Office Ltd, called it a "pioneering initiative".
He said 24 other authorities were looking at ways that councils could link with Post Office branches.