National Theatre plays to be performed on its roof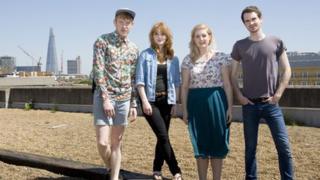 Two theatre companies are taking advantage of the National Theatre's building to perform new plays on the venue's roof.
Theatre groups Made In China and Non Zero One will be performing plays in areas usually off-limits to the public.
Get Stuff Break Free and You'll See (Me Sailing In Antarctica) will be put on at the South Bank theatre against the backdrop of London's skyline.
The opening night of Get Stuff Break Free will be on Monday.
You'll See (Me Sailing In Antarctica) launches in July.
'Relentless positivity'
National Theatre associate director Ben Power, said: "These two companies will bring their distinct brand of challenging, contemporary theatre to secret outdoor spaces on the NT building which have never been used for public performance before.
"We think audiences will really enjoy the combination of immersive theatre and spectacular city views."
John Hunter from Non Zero One said: "Our secret rooftop location is unlike anywhere we've performed before - normally off limits and undiscovered, this expanse of National Theatre roof space allows you to see so much but it doesn't feel like a normal viewing platform.
"The show talks a lot about seeing and perceiving - there is a lot to pay attention to up here."
Tim Cowbury, from Made In China, said: "It's as much about what you can see from the space, and the journey you take to get there, as the space itself.
"We've made a show that examines London 2012 as a vehicle of relentless positivity.
"Sitting an audience in front of a spectacular view of the city seemed like a thrillingly logical way to do this. "