Clapton flood victims one-year wait for repairs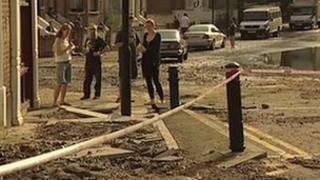 More than a year after a burst water main flooded houses in an east London street, some victims are still waiting for repair work to finish.
Up to 50 properties were affected in Upper Clapton, Thames Water said.
Repairs continue in three homes, with one family still unable to return and another living amidst ongoing building work. Both criticised the time it took for their claims to be processed.
Thames Water said it understood the "frustration" over the delay.
The water company did not dispute that at least three families were in such a position.
'Heart-breaking'
There were delays in processing some claims as some residents approached the water company directly while others claimed through insurers.
Emma Siddalls has been living in temporary accommodation with her two young children and partner for the past year.
Their flat in Alconbury Road consists of the ground floor and basement.
Ms Siddalls said: "It was just heart-breaking to come back and see our life just destroyed.
"They seem to have failed to grasp the magnitude of how this has affected families."
Juju Vail, who lives a few doors down, said water rushed into her basement, flooding the kitchen and reception area. Builders began working two weeks ago.
Mrs Vail said: "Coming up to Christmas, when we thought the work might be complete, but in fact it hadn't even begun.
"And my husband was having treatment for cancer at the time.
"It was immensely stressful from a personal point of view and he spent the entire month of his recovery time fighting with insurance companies.
"Why didn't they [Thames Water] get the ball rolling with the insurance companies earlier. They have always accepted liability."
In a statement Thames Water said: "Although the majority of claims arising from this incident have been settled, we are mindful of the time it has taken to conclude the claims for all our customers.
"Our loss adjustors continue to work with the families still out of their homes.
"We are really sorry for this and are acutely aware of how frustrating it must be for people.
"Our priority remains getting people's lives and homes back to normal as soon as possible."