Bus workers given MBE for bravery during London riots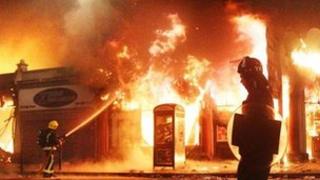 The bravery of two London bus workers during the riots has been recognised in the Queen's Birthday Honours.
Kenneth Martin and Peter Middleton, both 51, will be appointed MBEs for going "beyond the call of duty".
Mr Martin, a night traffic controller with London Buses, was in a bus when he came under attack in Brixton, but continued to help passengers.
Mr Middleton, an area controller for Arriva, was injured in the violence in Tottenham but kept the service moving.
Transport for London's (TfL) Commissioner Peter Hendy said the pair "demonstrated courage and professionalism, and through determination and bravery, they managed to keep the city moving and our users safe".
Mr Martin, from Kent, who has worked with London Buses for 12 years, was deployed in the Brixton area shortly before the disturbance.
Despite his vehicle coming under attack, the bus worker helped passengers and bus drivers to get to safety.
Later he himself went out to recover several abandoned buses and brought them back to the depots to prevent them from being damaged.
'Crucial role'
Mr Martin said: "I am overwhelmed to be awarded an MBE and would like to share it with all my colleagues who worked so hard to keep passengers safe and London moving during such a difficult time."
TfL said: "Through his actions, he provided a remarkable service to London's buses and bus passengers."
Mr Middleton, from Waltham Forest, was injured in the violence that followed a peaceful demonstration outside Tottenham Police Station.
Despite his injuries Mr Middleton went to the Tottenham bus garage and co-ordinated with other controllers to lead buses away as the disturbances spread, but at the same time kept the services running.
Mr Middleton, who has worked for Arriva for 29 years, said: "It is a real honour to receive this award.
"I really feel that I am accepting this for all my colleagues who were working that evening."
TfL said Mr Middleton "set an outstanding example and performed a crucial role in a very challenging situation, putting himself at risk to ensure the safety of others".