Boys hurt by falling tree at Wandsworth cricket ground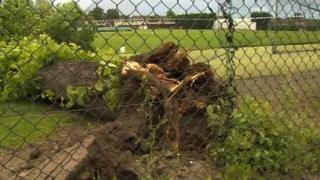 Three boys have been injured when a tree fell at a cricket ground in south-west London, police have said.
The boys, all aged nine, were at Spencer Cricket Ground in Earlsfield when the tree fell in a practice nets area at just after 15:45 BST.
Two of the boys suffered head injuries and are in a serious condition, while the third suffered a leg injury, London Ambulance Service (LAS) said.
The children were waiting for a turn to play when the tree fell, police said.
A spokeswoman for LAS said: "We were called at 3.45pm to Fieldview in Earlsfield to reports of a tree that had fallen on some children.
"We sent the London Air Ambulance, three ambulance crews, two single responders in cars and two duty officers.
"Our staff treated three patients, all reported to be nine-year-old boys."
A Met Police spokesman said: "The boys were waiting for a turn in the nets when the tree fell.
"Three boys were taken to St George's Hospital in Tooting. Two had injuries and were in a serious condition.
Cricket suspended
"The third had leg injuries and was described as walking wounded."
The Spencer Cricket Club said in a statement that all cricket at the ground had been suspended.
It added: "Naturally, the club's thoughts are with those young ones and their families.
"As soon as we have word from the hospital and the parents we shall be issuing another statement."
Monique Wilkinson, 33, was holding a birthday party for her three-year-old son when she heard the tree fall.
She said: "We could see the kids stuck under the tree and there were a lot of people around.
"It's terrible. These kids play on the field every weekend."
She added: "Another tree came down on this road earlier in the day which shows how bad the winds were."
Charlie Masson-Smith, a spokesman for Wandsworth Council, described it as a "terrible accident".
He said: "It has been pretty windy in town today and you can have a really healthy tree but if the wind catches in a particular way a healthy tree can be blown over."